Thank-you for visiting Puppy Names HQ
Hi, we're Gary and Sian, a couple of dog-lovers, no, make that dog-adorers!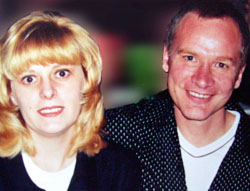 A few years ago we got a Labrador puppy, and after struggling to come up with a name, we decided to draw up a list of possibles.
Pretty soon we settled on Monty (after the British comedy team Monty Phython), but we had such fun putting the list together that we just kept adding names.
We started challenging each other to come up with the next great name and over the next weeks and months we put together a mega-list of dog names.
Anyway, to cut a long story short, the list sat in the bottom of a drawer for a couple of years until we (Sian, actually) hit on the idea of putting a puppy names site together.
Puppy Names HQ is the result. As dog-owners ourselves we know how frustrating it can be to come up with the perfect name for a new pup. We'd love to help, so we'll keep updating, upgrading, expanding, and (we hope!) improving our lists.
If you have any suggestions, ideas, corrections, compliments or criticisms, or even if you just want to say "Hi", give us a shout using the contact us form here.
Wishing you years of love, joy and companionship with your new dog.

Meet Monty, our Lab, and Tosh our Terrier mix. The old guy on the right is Benny (a.k.a Bear), our dear departed Lab who we still miss every day.
| | |
| --- | --- |
| | |
| Monty and Tosh | Benny |
Return From About Us to Puppy Names HQ Home Page
or Search the site
Custom Search